Back again, Exofarmers, and this time, we're talking about what it means to make your homestead your own, but with the fine details; that's right, folks, the decor to spruce up your home is this month's topic! Plus, talking about the dulcet tones that have graced your ears in previous updates, the writing process for Lightyear Frontier's music, complete with notes from the composer himself. Kick off your boots, pull up a chair, and read on!
De-core Concepts
Decorative features might seem superficial or otherwise not as important, but there's a lot to be said for the exact cozy feeling you'll find when you see a homestead that's put together really well. Follow along, and we'll show you some of what we have in store! 
No Of-fence Intended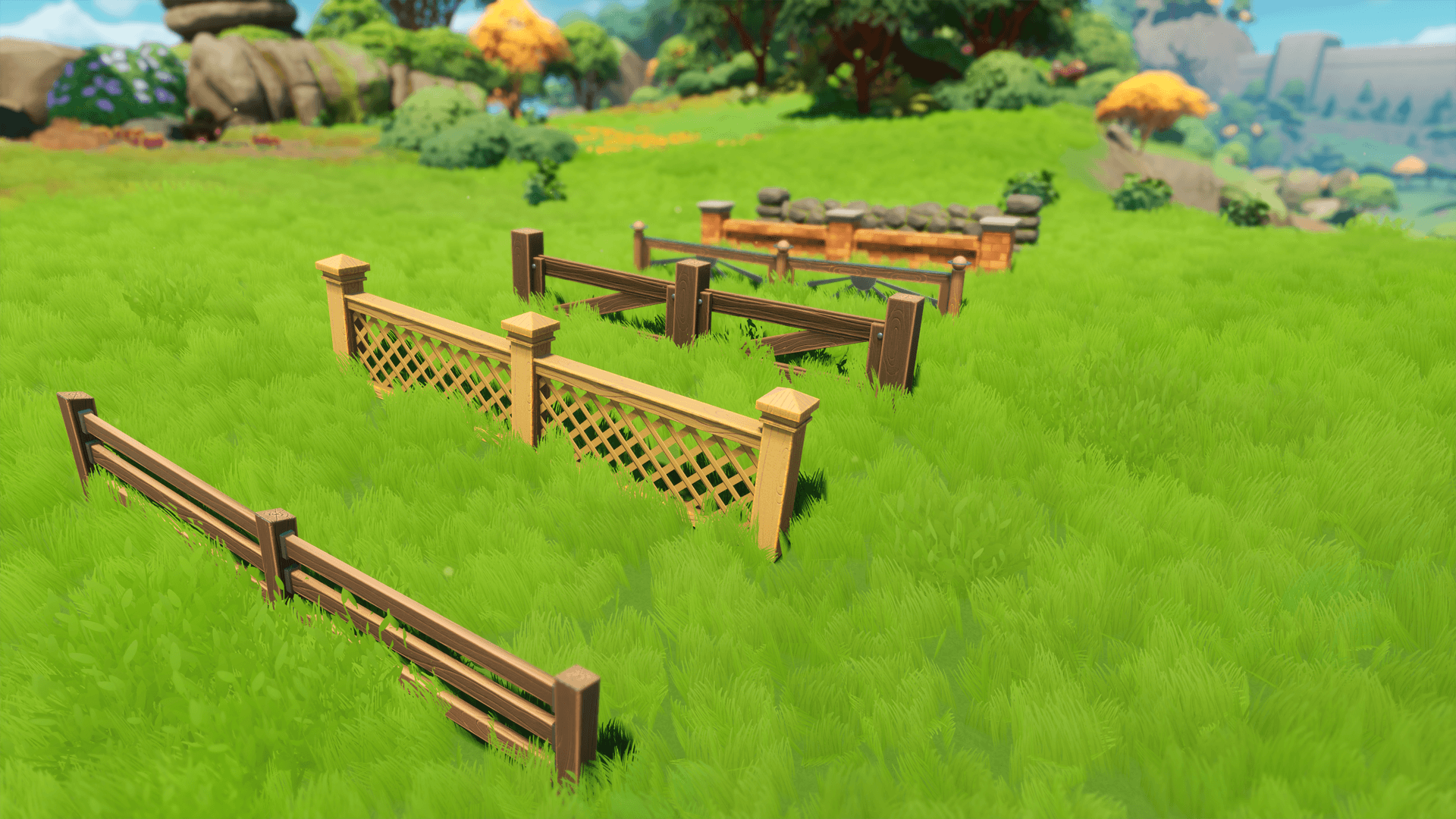 Fences don't seem like a whole lot of a big deal when you're all by your lonesome on a distant planet, but they matter! Fences make a nice, neat outline of where you call home, not to mention putting in your own personal touch by choosing from a variety of fencing styles. Last update, we shared some of the neat quality-of-life stuff we've added to make building fences even more satisfying, making it easy as heck to plot out your dream homestead!
Let's Table This One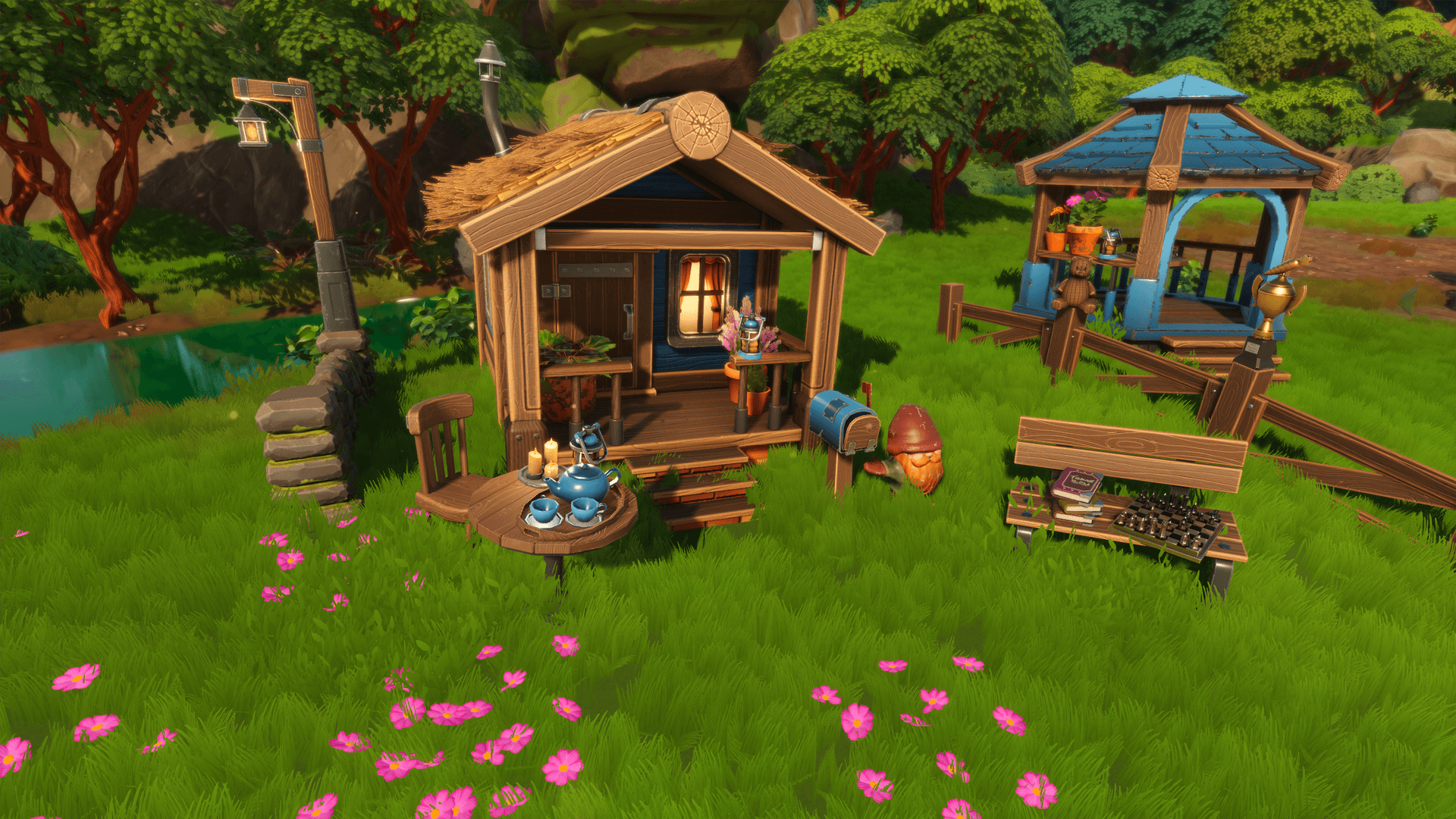 Another thing we included in the quality-of-life features shared last update is the ability to stack decor on other buildings or other decor, so of course we HAVE to show off some particularly stackable stuff. These accents are, of course, able to stand on their own, but couple these with, say a table? A gazeebo? The porch of a house? They're the excellent small touches to complete your patch of planet.
Down on the Farm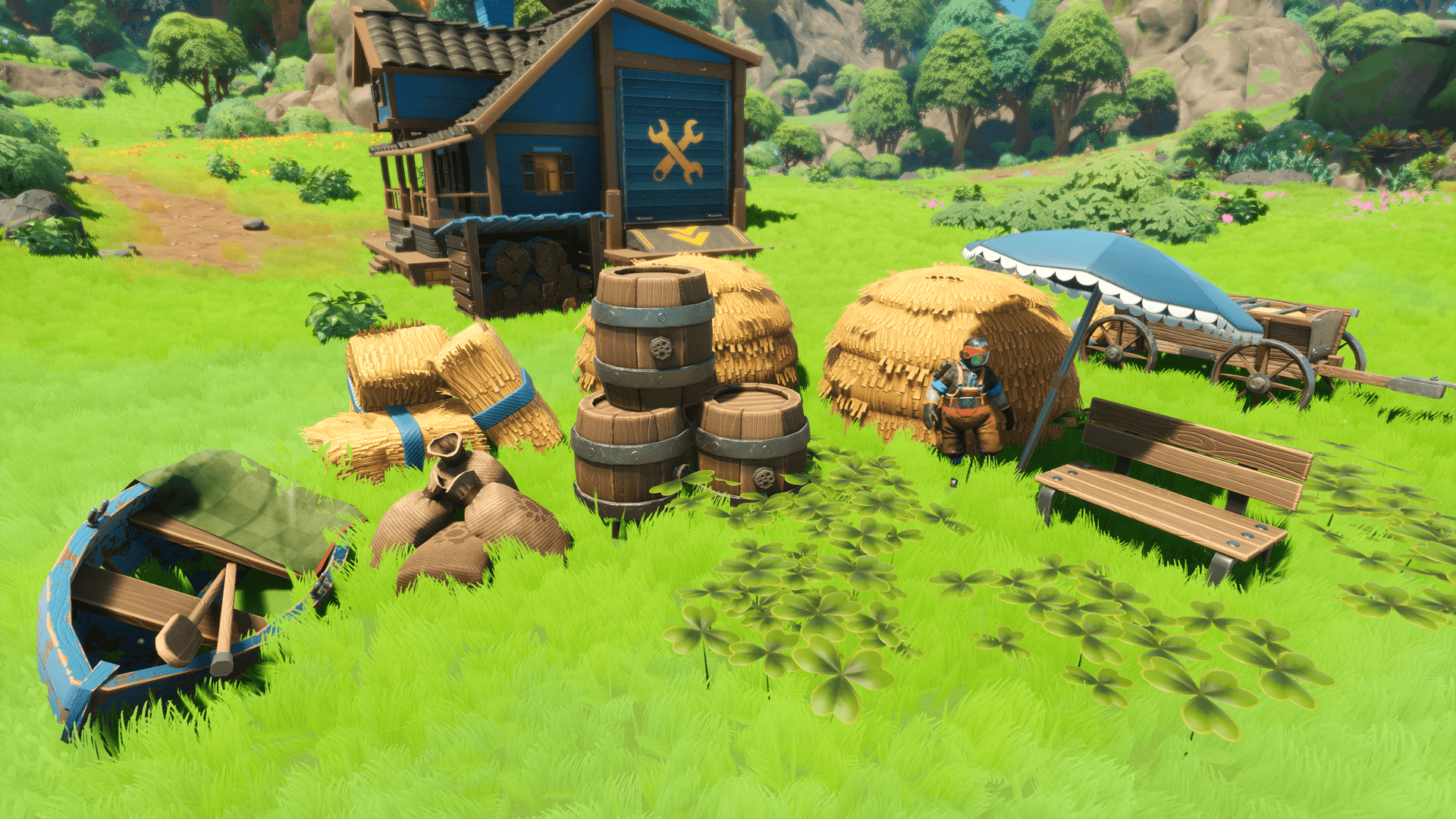 Of course we're putting in staple items you'd find on a farm! You might have a multi-ton piece of advanced farming equipment as your ride, but there's nothing quite like some board and nails, hay bales, and simple machines to remind you that you're building your home with what you've got on hand! Plus, you kicked off your boots for a reason: Just to relax! And to go with that, you'll have some options to take a load off with, including a parasol, a beached rowboat, benches, beach chairs, and more. Perfect for a hard day's work of pioneering your way across a beautifully enigmatic planet, right? 
A Time and a Place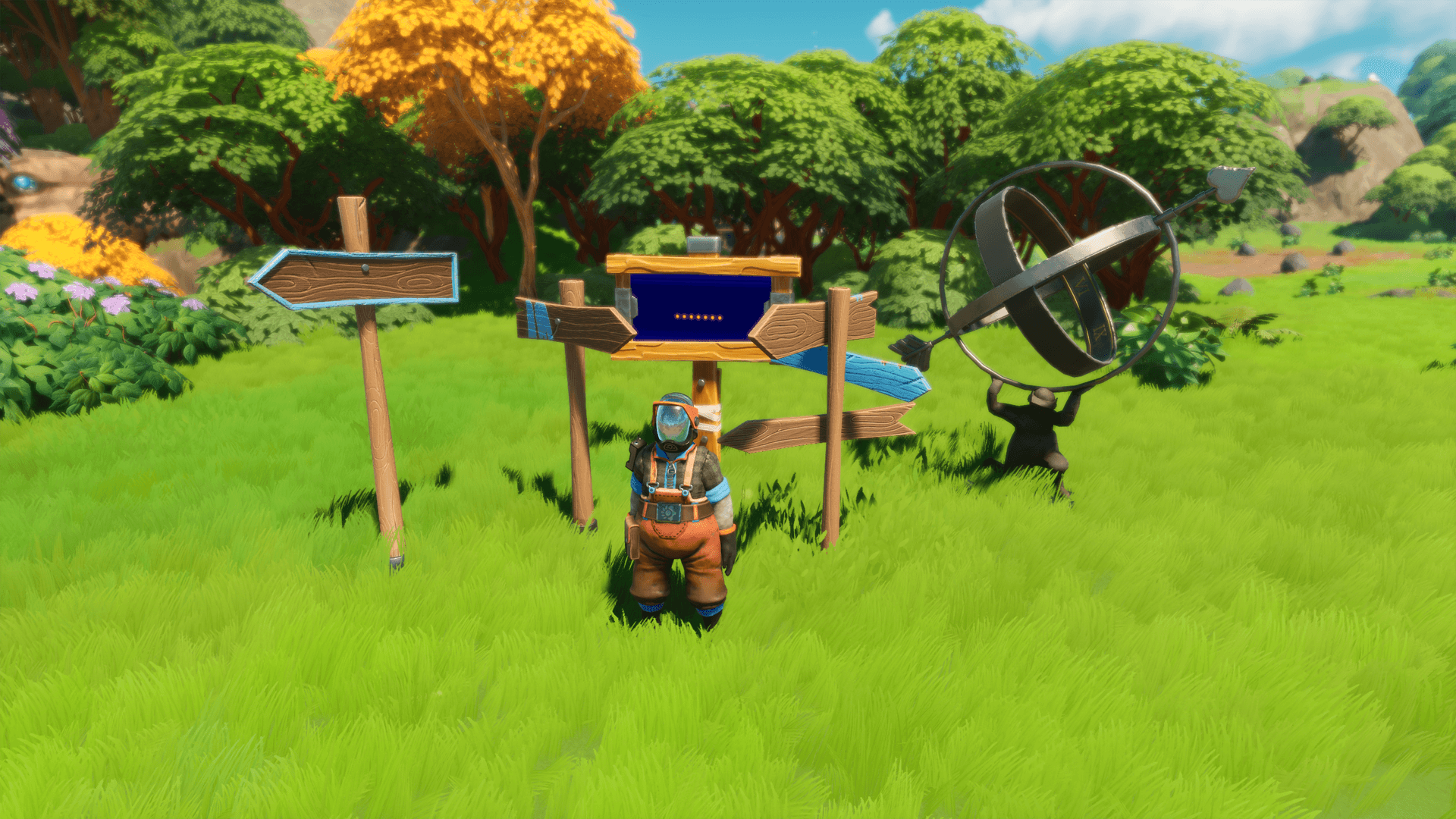 Another neat little tidbit about some of this decor: It actually does something! We're adding in signposts, pointing you in the direction that you set it, as well as written signage that you can rewrite to your heart's desire. And, while you're out and about from your mech, you'll be able to get a good sense of the time from the sundial you can build, as well!
Garden Party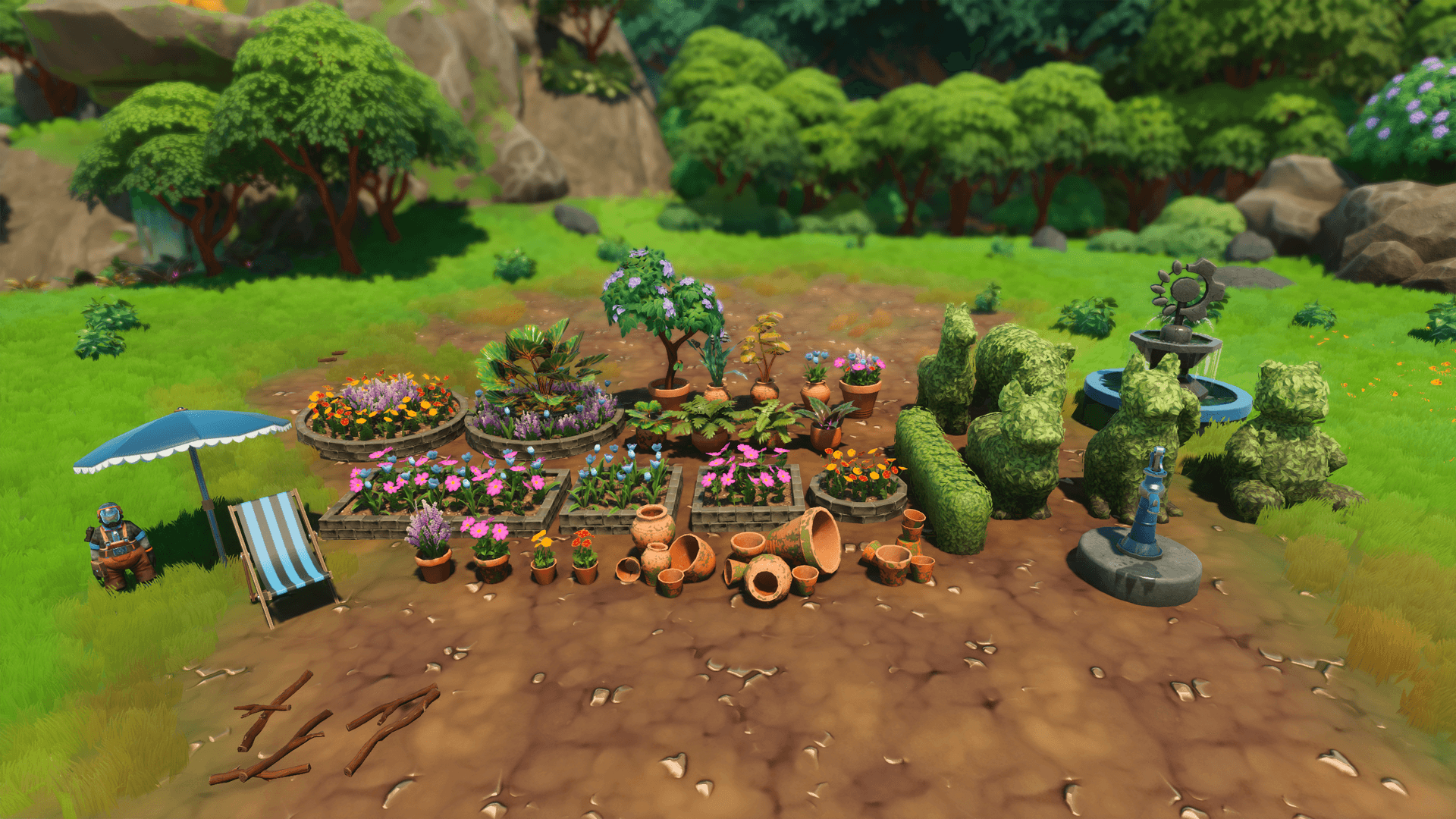 Not everything you'll be planting in the ground has to be crops! Sometimes, you just want a nice, tidy garden to give your home a more ground-level makeover. Whether in a brick-laid bed, or in a clay baked pot, flowers are always a heck of a great addition to your homestead! If you want, you can even let some moss make its home on your pots, giving a gently overgrown look. 
Music to My Ears
Setting the sounds of the evening in the Grasslands
There's no better way to set the mood than with the sweet sounds of music! We know y'all have adored what you've heard so far, and as an update focused on Good Vibes, we'd be missing a huge piece of the picture without talking to Jack, our resident composer and programmer on Lightyear Frontier!
Jack is thoughtful about how the music of Lightyear Frontier is made, especially around the 'Cosmic Country' designation. "You might have heard us refer to the style of the music as 'Cosmic Country'", Jack says. "It's arguable how country the music actually is but that is probably the term that gives you the best sense of the vibes the music is trying to invoke (and it just sounds good!)"
Trek through lush plains, rocky crags, and dense forests mid-day
As to his inspirations, it's a diverse mix of inspirations, starting with some of the more obvious ones like Tommy Emmanuel's fingerpicking, as well as Andrew Prahlow's own similar stylings with the Outer Wilds soundtrack. Other references are more obscure: "I also try to keep things fresh by adding some less obviously relevant stuff to my playlist, like Flying Lotus and mongolian folk music."
Wake up to a fresh day on the Frontier
"I always start by trying to establish the mood the music should evoke. Since the game doesn't really place any restrictions on when a player can do what, these moods can't be too specific," Jack posits on how his process starts. Once he's settled on the feelings he's trying to convey, he's off to the races as he noodles with a variety of instruments. After settling on a concept, he goes through the process of trial and error. "When I feel like I'm onto something, I'll start recording and then put the pieces together. If I'm lucky, this process will continue until the final touches of the production; if I'm not, I'll take a step back and try again."
Talk of the Town
This update will be the first opportunity for Exofarmers to participate in focused discussions around a particular feature! We want to hear from you, the community, on what your thoughts are, suggestions for decor, and some things you think would make the experience of decorating your homestead easier or more enjoyable. For the most active discussion with developers, join our Discord and assign yourself the "Pioneer" role to be tagged in this (and future) discussions Even better yet: We'll give you the chance to vote on what decor item should be added to the game next! We'll be hosting a poll on the Discord until March 30th, where we'll see which next flourish you'd like to see on your farm! See you then!